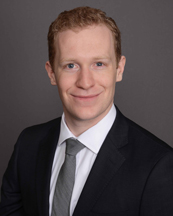 Associate
J. Patrick Logan is an associate attorney in the firm and concentrates his practice in the areas of land use, environmental and municipal law. Mr. Logan joined the firm after receiving his Juris Doctorate cum laude from the Elisabeth Haub School of Law at Pace University with a Certificate in Environmental Law as well as a Concentration in Land Use Law.
At Pace, Mr. Logan worked as a legal intern for the Pace Environmental Litigation Clinic, during which he participated in the Clinic's representation of an environmental non-profit in its ongoing mission to protect the environmental, recreational and commercial integrity of the Hudson River. Mr. Logan also studied at the Pace Land Use Law Center throughout law school and was Productions Editor on the Pace Environmental Law Review.
Mr. Logan was fortunate enough to twice represent Pace at the International Environmental Moot Court Competition, at which he was named Best Oral Advocate in the North American finals and led his team to the international rounds of competition as a representative of North America in 2016.
Mr. Logan also served as a legal clerk to Region 3 of the Environmental Protection Agency in 2016, during which he worked in the Agency's Division of Water and assisted the Office of Regional Counsel on matters of compliance and enforcement regarding the Clean Water Act, the National Historic Preservation Act, and Superfund.
His publications in the areas of environmental law and science include:
What's Shakin'? Ladra v. New Dominion, LLC: A Case of Consequence for the Hydraulic Fracturing Industry and Those Affected by Induced Seismicity, 34 Pace Envtl. L. Rev. 207 (2016).
Pouné Saberi, Martha Powers, & James Logan, Field Survey of Health Perception and Complaints of Pennsylvania Residents in Marcellus Shale Regions, Apha Ann. Meeting & Exposition (2013).
BAR ADMISSIONS
Mr. Logan was admitted to the bar in New York in 2018.
EDUCATION
Elisabeth Haub School of Law at Pace University
J.D. Cum Laude, with a Certificate in Environmental Law
University of Pennsylvania
B.A., Major in Environmental Policy